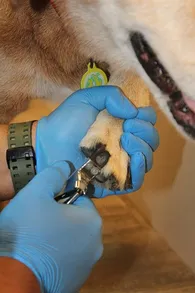 If you own a pet, its health and wellness is probably one of your greatest concerns. One of the best ways to monitor your pet's health is through an annual wellness exam. A wellness exam consists of a nose to tail inspection of your pet and diagnostic testing to verify your furry friend is in good health. Pet owners needing a veterinarian serving Coral Gables, FL, Coconut Grove, FL, Palmetto Bay, FL, Pinecrest, FL, and Miami Dade County, FL, can bring their furry friend to us at Coral Gables Animal Hospital for its annual exam.
Importance of Wellness Exams
Pet exams play an important role in protecting and preserving your pet's health. Even if your pet appears healthy, it's good to have him checked as he may have a hidden condition like cancer or parasite infection that isn't showing symptoms yet. Through diagnostic testing, a vet on our team can uncover hidden internal issues so your pet can get treatment before too much damage is done. Early detection and treatment of health problems may be essential to your pet's recovery.
For healthy adult pets, we recommend scheduling an annual exam as part of their pet care program. Senior pets may need to be seen more frequently due to their delicate health. Baby pets may also need to be seen more often so a Coral Gables veterinarian on our team can monitor their growth and development.
What to Expect at a Pet Wellness Exam
A Coral Gables vet at our animal hospital may start by reviewing your pet's medical history to give us a clearer picture of its overall health. If your pet's been having health problems since your last visit, now would be a good time to inform the vet. We may also discuss your pet's behavior, diet, exercise, and other aspects of daily living that impact its health. We may request a sample of your pet's stool to test for parasites.
Next, we may measure and weigh your pet and take his vital signs. This information can be logged into your pet's medical records for future reference. Then we may conduct a physical exam which may includes:
Inspecting your pet's eyes, nose, ears, and mouth for signs of sickness or disease
Examining your pet's skin, fur, feet, and nails for signs of irregularities
Checking your pet's stance, gait, and joints for symptoms of orthopedic issues
Listening to your pet's heart and lungs
Inspecting your pet's teeth and gums for signs of dental problems or periodontal disease
Palpating your pet's abdomen for signs of pain or swelling
We can also update your pet's vaccinations, if needed, during an annual exam.
See a Coral Gables, FL, Veterinarian at Our Animal Hospital for Pet Care
To schedule a wellness exam for your kit or pup, contact us at Coral Gables Animal Hospital by calling (305) 667-5821. We have a veterinarian serving Coral Gables, FL, Coconut Grove, FL, Palmetto Bay, FL, Pinecrest, FL, and Miami Dade County, FL,