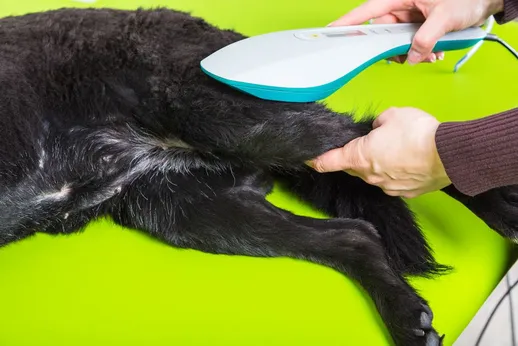 Coral Gables Animal Hospital Offers Laser Therapy for Pets
Sometimes pets may have wounds that are slow to heal and cause discomfort, whether due to trauma or from a surgical procedure. Disorders such as arthritis and skin conditions can also cause discomfort. Medications do not manage pain completely or healing may be slow and incomplete. In these cases, laser therapy for pets can be used to stimulate cell regeneration and improve healing processes. At Coral Gables Animal Hospital in Coral Gables, FL, we utilize technologies like laser therapy to help our patients heal faster.
Understanding Laser Therapy
Laser devices implement a high-intensity focused beam of light. At high levels of intensity, laser can be used as a cutting instrument in surgical procedures. But at lower levels of intensity, called cold laser, its deep-penetrating light can be used to stimulate cell regeneration and healing. It is a noninvasive procedure that can increase blood circulation to the area and stimulate natural healing chemicals. Results can be seen within a day or a few days. A number of laser therapy sessions may be needed to get the full benefit.
Conditions Laser Therapy Can Help
Dogs laser therapy has become a popular way to deal with a number of veterinary problems. Laser therapy is often used to help heal wounds from accidents or surgery more quickly. It can also be used to heal troublesome skin conditions, such as lick granuloma or other issues. Laser therapy is used to help heal damaged tendons and ligaments in animals. Our veterinarian serving Coral Gables may use laser therapy to reduce inflammation in older animals with joints affected by osteoarthritis. Laser therapy has become a very useful tool for veterinary care.
What Happens during a Laser Treatment?
During a laser session, the animal lies down on a table or on the floor. Generally, pets do not require sedation for the procedure. Goggles are placed over the eyes to protect the animal, the practitioner and anyone else in the room from the laser light. The laser wand is then passed over the affected area of the body for several minutes. The veterinarian will determine the appropriate amount of time for exposure before the treatment begins. The animal will only feel some warmth from the light.
Make Coral Gables Animal Hospital Your Veterinarian for Laser Therapy
Dr. Richter and Dr. Thomas combine their training and experience to provide the highest quality care for our patients in the Coral Gables, FL, area. We offer many veterinary services, including wellness care, vaccinations, surgery, dental care, emergency care and boarding. Contact Coral Gables Animal Hospital today at (305) 667-5821 for an appointment to learn how laser therapy can reduce pain and improve healing.