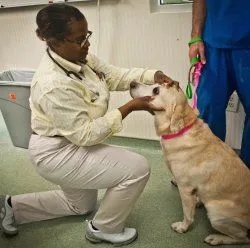 Experiencing pain can affect the body's physical functioning and can have a detrimental effect on a patient's well-being and state of mind. From routine procedures ( such as spays or dental cleanings) to chronically painful conditions ( such as arthritis or back pain ), we are dedicated to providing safe and effective pain management to every patient. We will also help you recognize signs of pain in your pet so that we can modify his or her pain management plan when necessary.
Our doctors use several modes of pain management including natural supplements, precribed medications and therapeutic laser therapy.
If you believe your pet is suffering from chronic or acute pain, please set up an appointment with one of our doctors to discuss the options available to make your pet more comfortable.