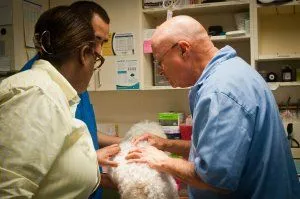 Taking care of your pet is both a privilege and a responsibility. It is also a partnership between you and your pet's veterinarian. Whether you have a young puppy or kitten, or your pet is getting up there in years, connecting with our passionate veterinarians, and the dedicated team of Coral Gables Animal Hospital is vital to helping your pet get the most out of his or her life. We are here to provide quality treatment for whatever stage of life your pet is in.
A Veterinary Hospital to Serve Your Pet's Needs
Our service begins with basic wellness care that every pet needs in order to maintain good quality of health. Young animals require several visits to make sure they are growing and developing properly and to assure that they are getting all the appropriate vaccinations that they need. Your pet also requires protection from fleas, ticks, and diseases like heartworms that can lead to serious conditions if left unprotected. We also provide dental care which is an important component of your pet's health.
As healthy as your pet may be, that doesn't stop the unexpected from still happening to him or her. At times, you may be able to tell that something is not quite right, but you won't know exactly what specifically is causing this reaction from your pet. At Coral Gables Animal Hospital, our staff is skilled at reading the behaviors of pets. We have a wide variety of diagnostic tools available that we can use to find out what type of treatment will be most effective for your pet.
Keeping Your Pet Safe and Cared For
South Florida may have a lot of beautiful weather, but if you have been in or around Miami-Dade County for a while, you know that hurricanes can be stressful and difficult to navigate with pets without the right support. At Coral Gables Animal Hospital, we provide that support when you and your pet need it most. We are here to help with creating a storm plan, assisting with anxiety and/or storm phobia behaviors, and all the stress that can come with unfavorable weather for your pet.
Whether you are struggling to find the right diet for your pet, need boarding services, or need help providing supportive care to a pet at the end of his or her life, our team at Coral Gables Animal Hospital strive to be there for you and your pet in the Coral Gables, Coconut Grove, Palmetto Bay, Pinecrest, Miami Dade County, and South Florida area every step of the way. To learn more or to schedule an appointment for your pet, contact Coral Gables Animal Hospital in Coral Gables, FL at (305) 667-5821.