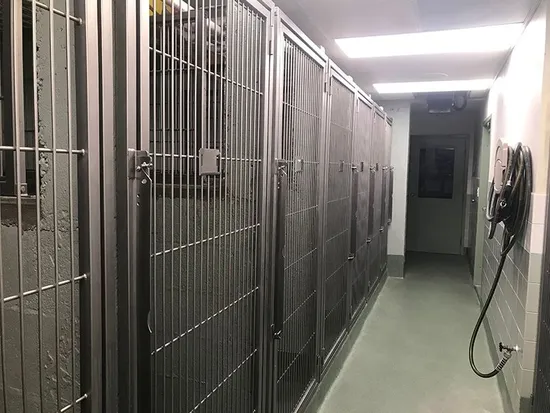 Traveling can cause enough stress and anxiety - you don't want to worry about whether your pet is being well cared for. We offer a convenient solution by providing boarding in our safe, clean, and comfortable environment. We have several runs and large kennels to provide your pets with ample space during their stay.
Our professional and friendly staff takes great care of our pet guests. We understand that each pet is unique, and we will make every effort to ensure that your pet is safe, happy, and healthy during his or her stay with us. In order to make your pet more comfortable during their stay with us, we recommend that you bring a small bag with their regular diet that we can feed them during their stay. Also, bring any medications and vitamins that they may need. If your pet is due for any vaccinations, exams, or wellness blood work during their stay, our staff will see to it that all their preventative care is provided before they are picked up. Every boarded pet will also receive a bath and nail trim before they go home. Every pet guest must be free of fleas / tics and on preventative treatment in order to be eligible to board.
We welcome your questions about our boarding facilities and policies. We are eager to discuss how we can make your pet's stay as happy as possible, while alleviating any stress you may be feeling about leaving your pet while you travel. Let us answer all your questions and put your concerns to rest! Call today to learn about our accommodations and boarding facilities, or to schedule your pet's stay.